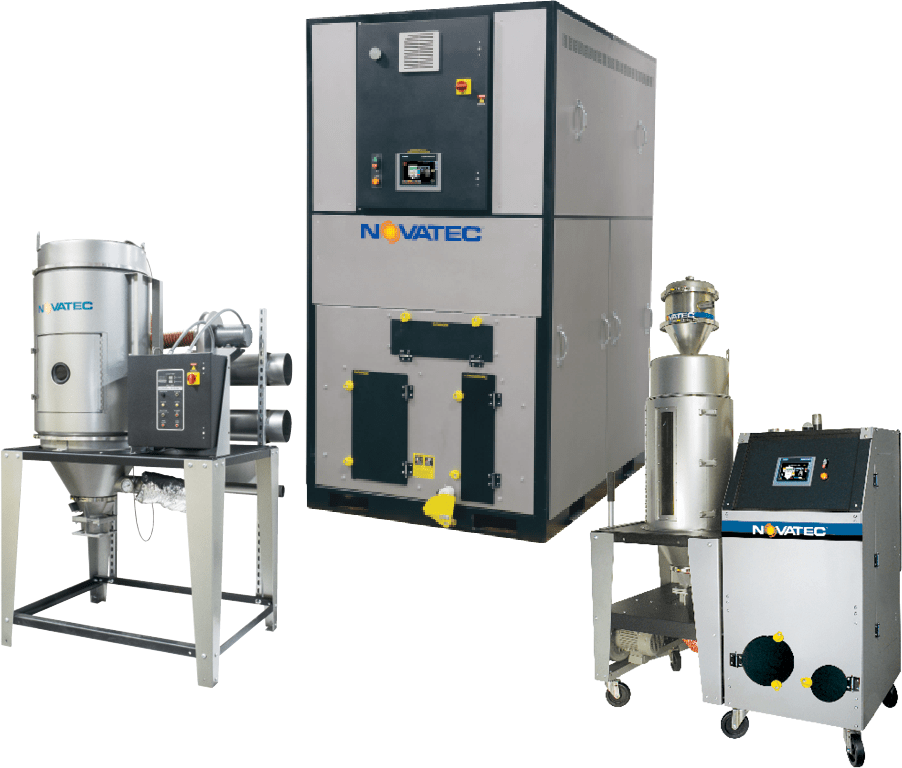 Novatec is the leading supplier of dryers in North America. We offer a wide range of throughput capabilities from small on-the-machine dryers to portable beside-the-press units with integrated conveying, to large central drying systems. Novatec also offers the widest array of drying technologies including membrane compressed air and membrane nitrogen dryers, desiccant wheel dryers, desiccant bed dryers, infrared drying and crystallization, vacuum dryers, gas-fired process heaters, silo dehumidification systems and central drying systems.
We have the drying knowledge and the dryer product line to ensure you'll get the absolute best solution for your trouble-free resin drying needs.
And most of Novatec's top-rated, performance-proven equipment comes with an UNEQUALED IN THE INDUSTRY five-year warranty for the lowest total cost of ownership.
Resin Moisture Detection Systems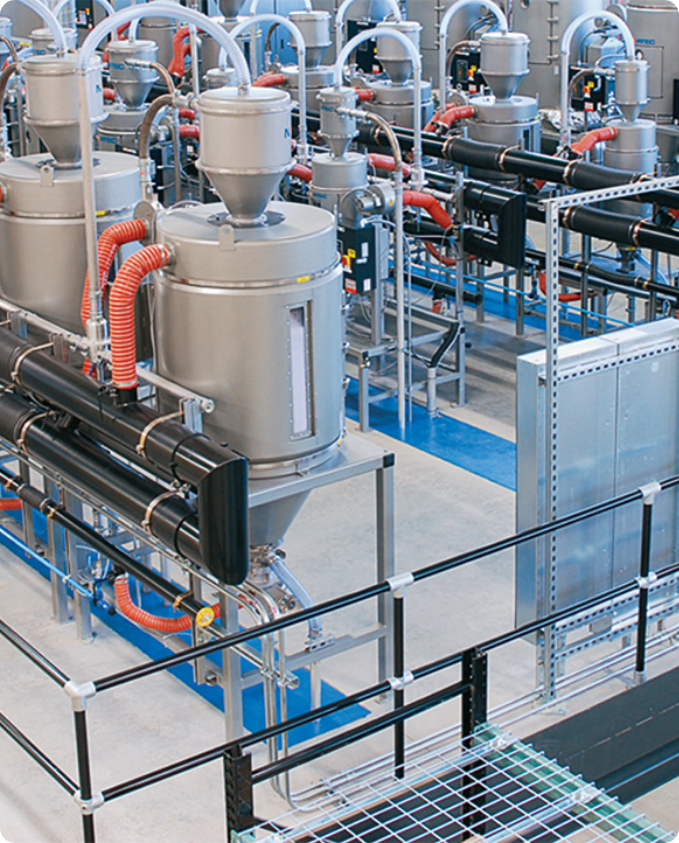 When it comes to resin dryers, don't settle for the second best. Novatec is the clear choice for your resin drying needs.

With over 75 years of experience as the longest running manufacturer in the industry, Novatec brings a wealth of expertise and knowledge to every project.

Our 5-Year Warranty and commitment to quality is unmatched in the industry. This means a lower cost of ownership and peace of mind knowing your equipment is built, and covered, for the long haul.

We offer the widest range of drying technologies on the market, ensuring that you'll get the perfect dryer for your specific application.

Most Novatec dryers are able to utilize the 'smart drying' system, DryerGenie, that guarantees your resin in dried perfectly in the shortest amount of time.
Experience the difference of working with the number one industry leader!
Achieving perfectly dried resin pellets is crucial for any production process, but certain resins are notorious for absorbing moisture making precision drying difficult to achieve. That's where DryerGenie comes in!

Smart sensors calculate the moisture content of your resin before the pellets are sent to the dryer.

Automatically adjusts your dryer's parameters so that your resin is dried perfectly in the least amount of time.

Reduce your start-up time and never worry about overdrying or under-drying your resin again.
Upgrade your dryer with DryerGenie today and start making more parts each day!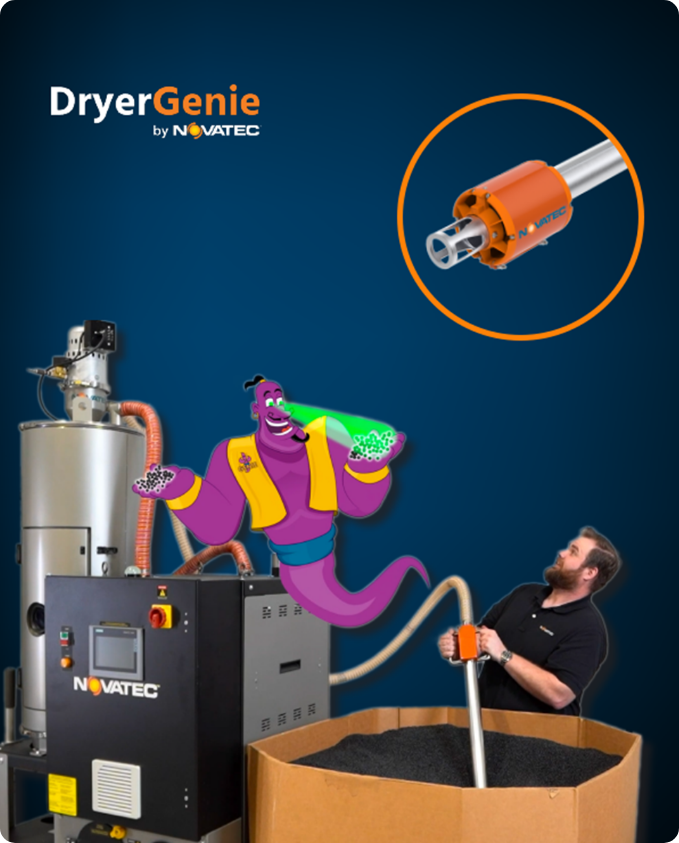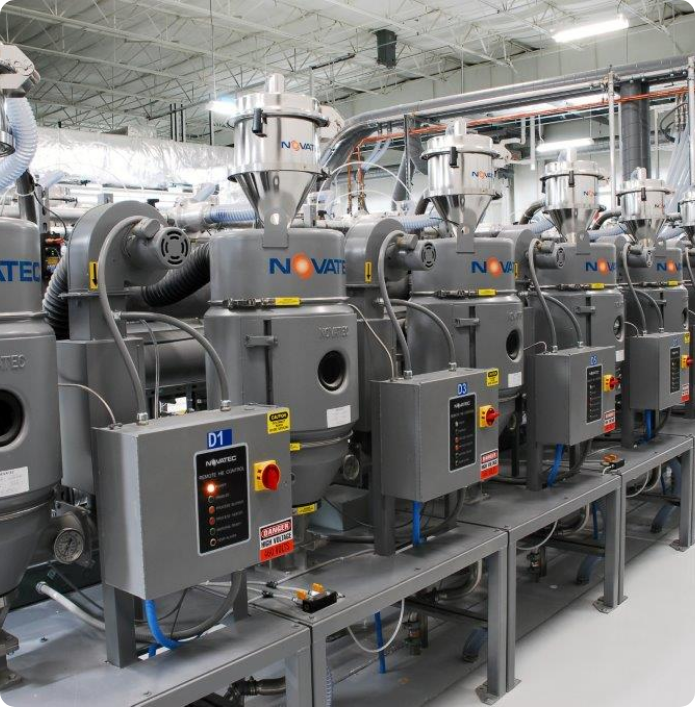 Centralized Drying Systems
Free up valuable floor space while enjoying considerable cost savings, vastly improved efficiency, and reduce your material changeover to 15min or less. Novatec's Centralized Systems are the ultimate in streamlined productivity!

An industry-leading 5-Yr Warranty, as well as our System Performance Guarantee, ensures that your new drying system will exceed your expectations.

Our team of Experts are committed to client success and provide full-time professional project management, ensuring that every project is executed to perfection.

We provide full-service support long after installation from field service start-ups to in-house and on-site training as well as follow-up sessions.
Say hello to more room for production machines so you can make more parts each day!